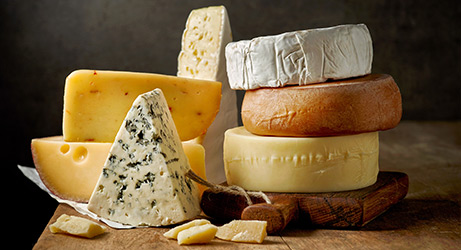 Whether paired with wine or meat, as a standalone snack or as part of a delicious recipe, the right cheese makes all the difference. To satisfy your customers' demand for rich, savory, delicious cheeses, choose High Desert Provisions LLC as your wholesale cheese distributors in Albuquerque, NM.
We bring customers a superb range of cheeses, spanning all different types. Our cheeses are supplied by Dietz & Watson, a trusted name brand wholesale supplier since 1939. They contain no artificial colors, flavors, fillers, extenders or MSG. And, all products exceed USDA, FDA and health organization standards for healthy eating, guaranteeing quality for you and your customers.
Artisanal Cheeses
Our selection of popular, much-enjoyed cheeses includes virtually any type of cheese your customers could want. From aged sharp cheddars to Danish-style fontina, baby Swiss to pepper jack, our selection has been cultivated with numerous options in mind:
Aged cheddar
American
Baby Swiss
Bergenost
Blue
Colby jack
English style
Fontina
Gouda
Havarti
Lacey Swiss
Monterey jack
Muenster
Pepper jack
Provolone
Sharp cheddar
Swiss
White cheddar
Yellow cheddar
With different spices, additives and styles, our diverse range of wholesale cheese in Albuquerque, NM is even further enriched by unique flavor combinations and classic favorite varieties! See for yourself today.
Domestic and Imported
We offer domestic and imported cheese varieties for your convenience. This enables you to bring customers a wider selection of options when it comes to picking out gourmet and artisanal cheeses. With premium options not offered by other wholesalers, we're confident in our ability to bring you a complete selection of cheeses, spanning all varieties.
Order Today!
To learn more about our many cheese options or to place an order for your establishment, please contact us today by calling 505-228-6406 . We're happy to provide you with even more information about our many processed cheese options.